New Leadership at TFRI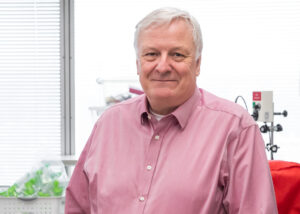 Effective August 1st, 2021, Dr. Jim Woodgett, PhD, FRSC, a senior scientist based at the Lunenfeld-Tanenbaum Research Institute (LTRI) at Sinai Health will become the new President and Scientific Director of The Terry Fox Research Institute (TFRI).

Dr. Woodgett is an internationally renowned biologist at the LTRI conducting research in cell signalling and transduction pathways in cancer, diabetes and neurological diseases and was Director of the Institute for 15 years. In addition, he is an advocate for increasing public support for science and medical research and is known for his science communication and public science outreach.

Dr. Woodgett succeeds TFRI's founding president Dr. Victor Ling, O.C., O.B.C., PhD who has led the Institute since its creation in 2007. For more, see https://www.tfri.ca/updates/news/news-item/distinguished-toronto-scientist-dr-jim-woodgett-takes-up-leadership-of-terry-fox-research-institute-on-august-1.