Patient is used as an overarching term that includes individuals who have or have had cancer and informal caregivers, including family and friends, who have cared or are caring for a cancer patient. Patient engagement is defined in the Strategy for Patient-Oriented Research (SPOR) Patient Engagement Framework as meaningful and active collaboration with patients in governance, priority setting, conducting research and knowledge translation. Effective patient engagement occurs throughout the research process and improves the relevance of the research and its translation into policy and practice.
Since 2017, the CCRA has offered the Patient Involvement in Cancer Research Program (PIP) as part of the biennial Canadian Cancer Research Conference (CCRC). PIP provides patient partners with an opportunity to learn about leading-edge science from Canada's cancer researchers and trainees and to, likewise, offer the scientific community an opportunity to learn from and interact with patient partners keen on building their knowledge of cancer research and demonstrating the value that engaged patients can bring to the cancer research process.
The 2021 PIP is being offered in a virtual format alongside the CCRC. There are 23 participants in this year's program. A big thank you to our supporters!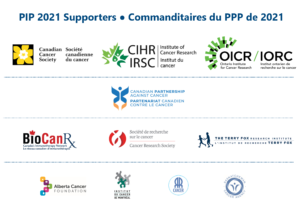 To learn more about the program, please read the program evaluations listed below. 
2019 Patient Involvement in Cancer Research Program Report
2017 Patient Involvement in Cancer Research Program Report
CCRA Exceptional Leadership in Patient Involvement in Cancer Research
Since 2017, CCRA has, as part of its awards program, recognized individuals who have made exceptional contributions to fostering patient involvement in cancer research in Canada. This individual may be a patient research advocate, a researcher, and/or a care provider or clinician. Learn more about past recipients of this award.
The 2021 awardees will be announced at the 2021 CCRA. The next call for nominations will be in the spring of 2023.
2021 PIP Small Research Grant Competition
As part of its commitment to patient engagement, the CCRA is releasing its inaugural funding opportunity. This small grant competition is open to trainees and early career investigators and will be adjudicated entirely by PIP participants. The research activity supported by this program is broad – for example, forums to bring together patients to jointly identify cancer research priorities, pilot work or feasibility testing intended to strengthen a major grant application, engagements with underserved communities to glean insights to inform current research, development of educational approaches designed to help patients better understand the research process, or any other innovative project that will directly engage patients with an aim to advancing cancer research that benefits patients.
For more information, please see the program guidelines and application form. Deadline for applications is September 22, 2021. One grant will be awarded for up to $15,000. Please direct any questions to kimberly.badovinac@partnershipagainstcancer.ca.
Resources for Patient Research Advocate
To support patients in their learning journey, CCRA has developed a series of digests on research advocacy as well as different topics within cancer science. A searchable glossary is also available. PIP participants may also elect to be part of an online group within the MS Teams environment, which provides additional opportunities to keep abreast of developments in the field of patient engagement and stay connected with other patient research advocates.
CCRA has also supported PIP participants interested in utilizing the Canadian Cancer Research Survey (CCRS) to explore research investments made in specific cancer research areas. Two of our PIP participants published an article in Archives of Breast Cancer (July 2021) looking at the research investment in metastatic breast cancer research and how it aligned with research priorities generated through a priority setting partnership of patients, caregivers, clinicians, and researchers.